Residential Assisted Living
Retirement Homes In New Orleans, Louisiana
Does your parent or elderly loved one have difficulty performing household tasks, taking care of themselves, preparing meals, or other activities of daily living?
Perhaps getting in and out of their favorite rocking chair has become increasingly challenging? At Audubon Care Homes®, we take pride in providing exceptional care at our residential assisted living communities for New Orleans seniors. Our retirement home caregivers are required to participate in ongoing training in senior care. Additionally, all caregivers receive a minimum of eight hours of dementia care training through the only Alzheimer's Association-approved training program.
If you have been considering a retirement home in New Orleans for your loved one or if your loved one is currently in an assisted living program that is not a good fit, please contact us today to schedule a personal tour.
Covid-19 is a virus that invades the upper respiratory system, which is especially dangerous for seniors and people with comorbidity and weakened immune systems. We take Covid safety protocols seriously at Audubon Care Homes®. Installed in our New Orleans' retirement homes is an Air Scrubber by Active Pure – a state-of-the-art air quality system proven to destroy 99% of all surface contaminants and specifically the virus (SARS-CoV-2) that causes Covid-19. We follow Louisiana Department of Health and CDC guidelines.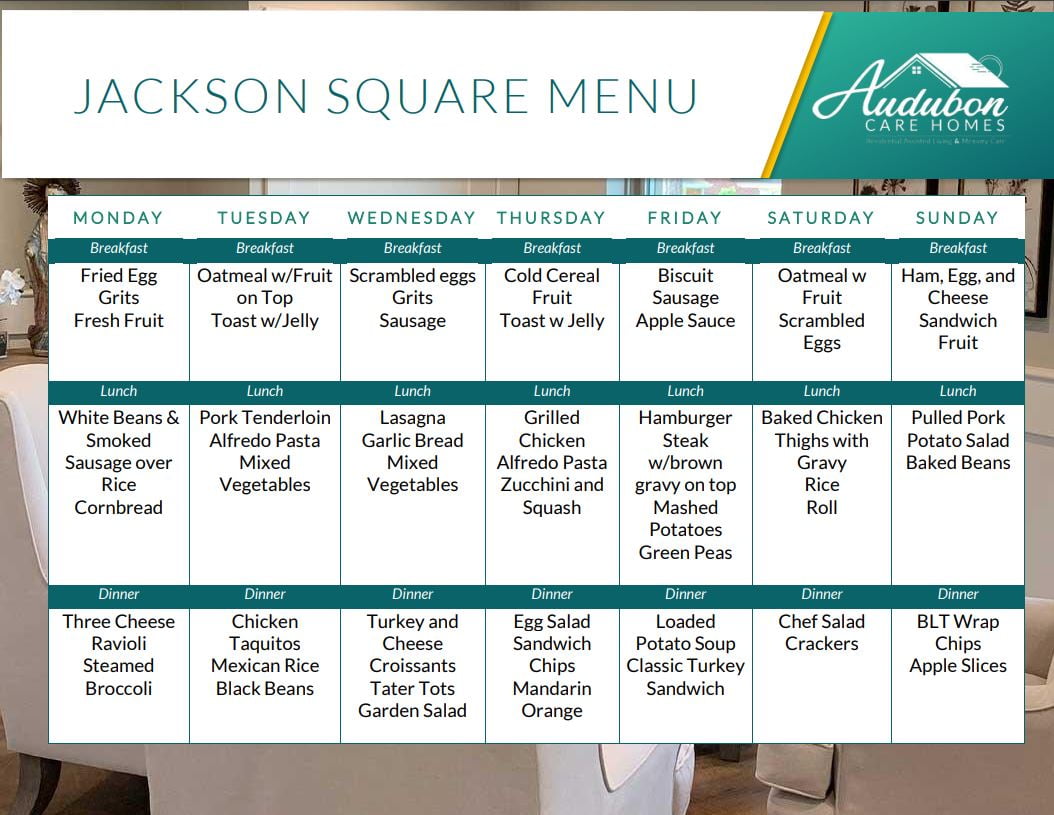 Home Cooked Meals
At Audubon Care Homes®, we are aware of the amount of unhealthy food our society consumes. That's why our residential assisted living homes in New Orleans are dedicated to the health of our residents by providing delicious home-cooked meals. Not only is it a healthier option but eating together increases socialization and emotional well-being among our residents. During mealtimes, our professional caregivers can also support the hydration and food consumption of residents ensuring their physical well-being. We also celebrate birthdays and holidays by cooking and baking with our residents.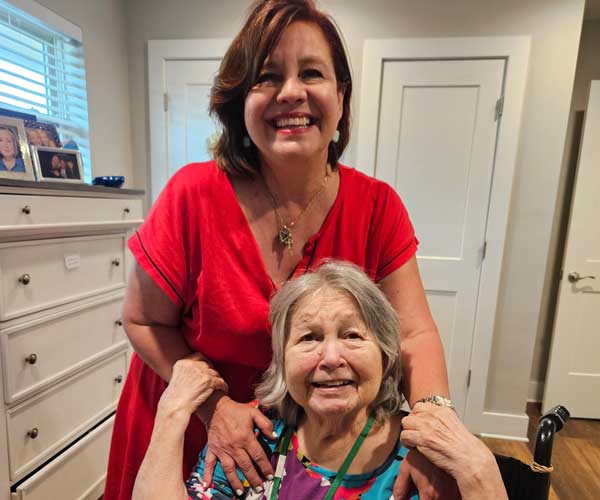 We Welcome Family Visits
We welcome you to visit your elderly loved one at any time. We understand that each family has a different way of spending time together. That's why there is plenty of space in our residential assisted living communities in New Orleans to visit privately, spend time in our common living room or covered patio. You can play games together, lounge around and watch television, or even take a walk in the neighborhood. We also welcome families to join us on the holidays and participate in the festivities.
Residential Assisted Living Is Better For Certain People
Large assisted living communities play a vital and irreplaceable role in senior care. However, not all people do well transitioning from their home to a community environment. Some individuals do better with a more familiar home-like setting. This is where our residential assisted living program in New Orleans has proven to be effective. By having a small, intimate setting, our residents feel comfortable while allowing our staff to provide more personalized care. Furthermore, our residential retirement homes in New Orleans have the highest caregiver-to-resident ratio in the nation–we have one caregiver for every three residents. Here is a wonderful article on helping seniors adjust to residential assisted living in New Orleans.
Other Things You Should Know About Audubon Care Homes®
Below are several other things you should know about Audubon Care Homes®. You can also learn more on our FAQs Page.
Highest Caregiver-to-Resident ratios in the country – 1 to 3
Owners on-site every day
Backup Whole-Home Generator
Beauty Salon with Hairdresser and Manicurist on staff
Therapy Dogs
On-Site Doctor Visits
Licensed Speech Therapist On Staff
Licensed Family Counselor on Staff
Pharmacist Owned and Operated
Home Cooked Meals
Licensed With Louisiana Department of Health
Highest Standards in Covid-19 Best Practices
How To Pay For Assisted Living?
There are quite a few ways to pay for assisted living, depending on your financial situation, state of residency, and military status. At Audubon Care Homes®, we accept the following forms of payment:
Private Pay
Private pay refers to payment from personal finances and resources absent of outside help from third-party assistance. Most of the residents at our New Orleans retirement homes pay with personal funds.
Veterans Benefits
If your elderly loved one is a veteran or a spouse of a veteran, then they might qualify for financial assistance from Veteran Affairs (VA). It is worth checking with the VA to see if you are eligible.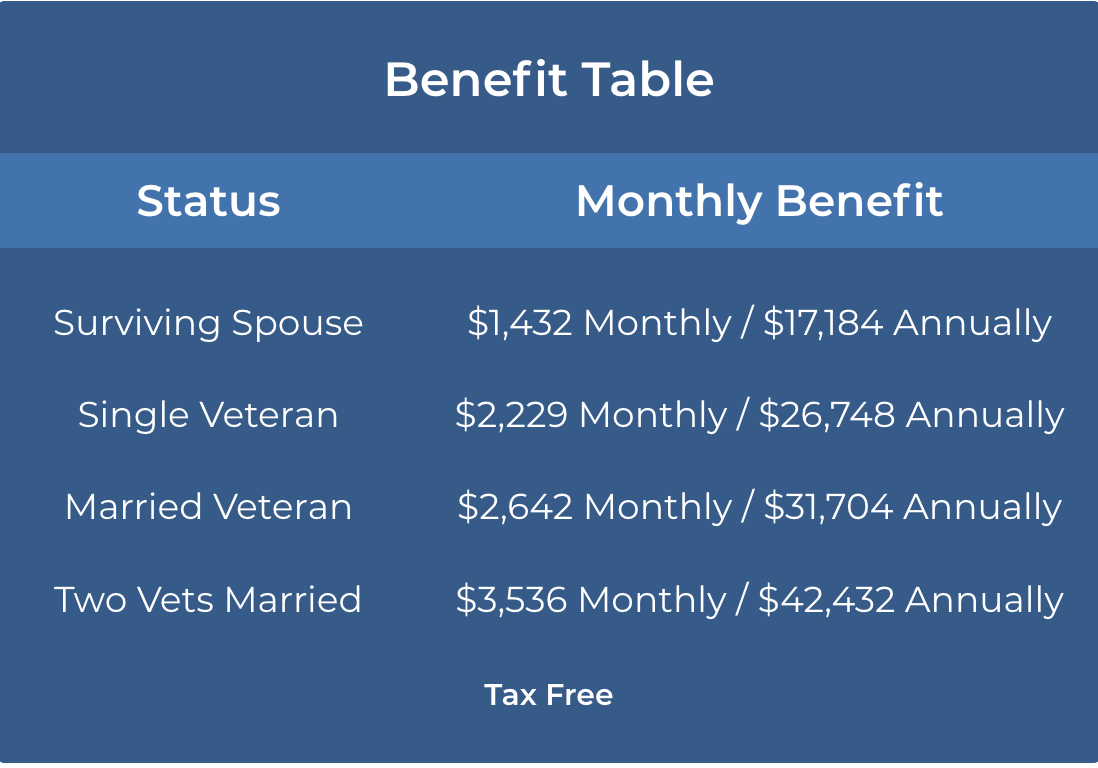 Long-Term Care Insurance
You are in luck for those who planned ahead because we accept long-term care insurance as a form of payment. Long-term care insurance is purchased through private insurance companies, so double-check with your insurance provider to see if it's included in your plan.