Assisted & Senior Memory Care In Metairie, Louisiana
Did you know that people with dementia are at a higher risk of injury-related hospitalization than people without dementia? If you are concerned that your elderly loved one is unable to care for themself due to memory loss or other forms of dementia, there is a solution.
At Audubon Care Homes®, we specialize in all forms of memory care, from dementia to Alzheimer's to aphasia.
Our memory care program is unlike any other – we have a unique program that combines medical professionals, engaging activities, pet therapy, and technology that no other assisted living in Metairie.
Personalized Memory Care Plans
At Audubon Care Homes®, we understand that memory loss affects everyone differently. That is why we create a personalized memory care plan for each of our residents. Our New Orleans memory care facilities with assisted living, has been carefully designed to maintain health and safety while supporting resident independence in the comfort of a home.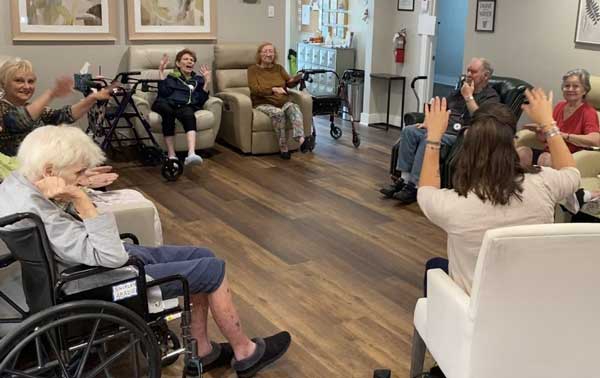 Activities To Strengthen The Brain
Specific activities have been proven to be beneficial in keeping the minds of memory care residents sharp and preventing further cognitive decline. At our residential assisted living and memory care facility in New Orleans, we provide activities for every day of the week – brain games, reminiscence therapy, puzzles, arts and crafts, chair exercises, games, dance therapy, music therapy, and group discussions led by a licensed professional family counselor. We believe preventing further memory degeneration is possible through physical activity, intellectual reinforcement, and socialization. Keeping our residents active and stimulated makes them happier and healthier, which is at the forefront of our mission and purpose.
Stimulating Memory Care Activities
We have activities planned for every day of the week that keep our residents engaged and promote memory retention. Several of our current residents in our New Orleans memory care facilities have come from other care homes in the area who were not a good fit. They now reside at Audubon, and we are proud to report that they are more vibrant and engaged than ever before!
Do We Offer Medical Care Services?
We have a licensed speech therapist, family counselor, and dance movement therapist on staff. We also work with several medical providers and assisted nursing staff in the community who are happy to come to our homes to see residents. These include a nurse practitioner, med-pass nurse, podiatrist, dentist, home health aides, hospice, wound care, PT/OT/ST. We also invite any of our residents' medical providers to come to the home to provide care. We can make accommodations for any medical provider to see your loved one on-site.